Cod. Art. 580201 | average weight kg 2,000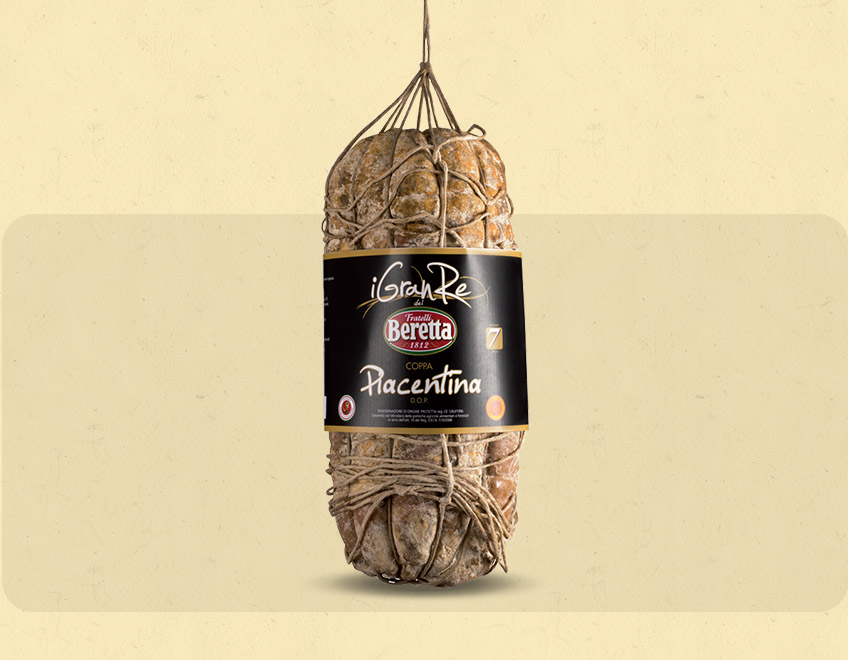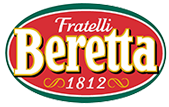 The I Gran Re product line, the delights of the Beretta home territory designed for the traditional consumer, includes the three jewels of the grocery of Piacenza.
The Beretta tradition is born in the heart of the Val Trebbia that, together with the valleys of the Arda, Nure and Tidone, takes the name from the river that crosses it, marking the region of production of this noble PDO.
Protected Designation of Origin
Gluten-Free product

The "I Gran Re" Coppa Piacentina PDO, from Italian ingredients of the highest quality provided by selected abattoirs of Emilia Romagna and Lombardy, is allowed to rest twice as long as per PDO regulations: 7 months rather than 3. Salting with the "dry salt" method, with sea salt, crushed 1/4 grain black pepper, cloves and garlic, according to the Beretta recipe, produces the bouquet of aromas that accompanies I Gran Re Coppa along all stages of the curing process. The last period of drying, which takes place in stone cellars, gives it the unmistakeable aroma of the Coppa Piacentina. The natural curing note that characterises the PDO product, in the version I Gran Re, is elegantly balanced and never invasive.
Nutritional values ​​per 100g of product
Energy
1618 kJ
390 KCal
Fat
32 g
of which saturated fat
14 g
Carbohydrates
<0,5 g
of which sugars
<0,5 g
Protein
25 g
Sodium
3,5 g