DOP Filzetta Brianza salami
Cod. E.A.N. 2215280000000 | average weight g 400ca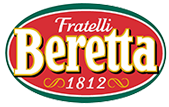 The tastiest of the cold cuts, the salami, has a centuries-old tradition.
Certainly the saying "to each its own salami" fits the largest product line perfectly.

Protected Designation of Origin
Gluten-Free product

An Italian top product that has earned the protected designation of origin. From the lands of origin of the Beretta family, processed and seasoned in the heart of the Brianza, a sweet tradition with an elegant aroma of garlic and pepper.
From select Italian ingredients, following strict DOP regulations, stuffed in natural casing, dried in the dry air of the hills of the Brianza.
Characterised by a sweet taste, delicately tasty, for hard-to-resist ruby-coloured slices, the result of a hundred-year tradition, preserved by a few passionate salami experts.
Nutritional values ​​per 100g of product
Energy
1558 kJ
375 KCal
Fat
29 g
of which saturated fat
9,7 g
Carbohydrates
<0,5 g
of which sugars
<0,5 g
Protein
28 g
Sodium
4,2 g